Li Zhanshu, the third most important figure in the Chinese Communist Party (CCP) and member of the Politburo Standing Committee, is due to visit South Korea in mid-September.
Experts say China and the United States are competing to win over South Korea because it is an important part of the global semiconductor supply chain.
Li is the third most important person in the CCP after Supreme Leader Xi Jinping and State Council Premier Li Keqiang. He is also a close ally of Xi.
South Korean media Yonhap News Agency reported on September 1 that Li will visit South Korea for three days, starting September 15. He will meet Kim Jin-pyo, the speaker of the South Korean Parliament, and could pay a courtesy visit. to President Yoon Suk-yeol. It is unclear whether they will discuss a summit between the two countries during Li's visit.
A South Korean Foreign Ministry official told Yonhap that the two senior leaders' state visits are usually coordinated by the Foreign Ministry, but the two sides will use Li's visit to reach consensus on the need for high-level exchanges. .
The chip industry at the heart of the competition
Chinese expert Ji Da told The Epoch Times on September 2 that South Korea has become a crucial place for China and the United States to conquer, because the chip industry in South Korea is quite advanced. Earlier, US President Joe Biden visited South Korea, followed by House Speaker Nancy Pelosi (D-California). And now Xi Jinping also plans to visit South Korea, apparently in competition with the United States, Ji said.
In an interview with The Epoch Times, Lee Ji-yong, a professor in the Department of International Studies at Korea Chi-Ming University, also said Li's visit to South Korea is aimed at strengthening bilateral relations in the country. occasion of the 30th anniversary of the establishment of diplomatic relations between the two countries, and will focus on issues of concern, including semiconductors. He speculated that if Xi Jinping is re-elected, he might visit South Korea and make a series of demands on the semiconductor issue, but it is almost impossible for South Korea to respond to Beijing's demands. .
In a choice between the United States and China, South Korea's semiconductor industry would definitely opt for the United States, Lee said. In fact, it's not a matter of choice, it's a matter of survival, Lee said. "The South Korean semiconductor industry cannot survive if it chooses to break away from the United States and other Western countries."
He also pointed out that since President Yoon Suk-yeol did not meet Pelosi in person during his visit, Washington may be unhappy that Yoon personally receives Li in September, since Li's official rank is tied with Pelosi's.
Nevertheless, Lee stressed that he believed the position of the current South Korean administration to attach great importance to the US-Korea alliance would not change.
"No matter how much pressure the CCP exerts, the South Korean government will adhere to its security and economic policies, to protect our national interests. It won't change even if Yoon meets Li [in September] and Xi sometime later," he said.
Biden's Samsung visit
During Biden's first trip to Asia as president in May, he visited a Samsung Electronics factory immediately after arriving in Korea.
In his 10-minute speech after the tour, Biden advocated strengthening cooperation between "value sharing" countries on technology and other issues.
"Our two countries work together to manufacture the best and most advanced technology in the world, and this factory is proof of that," he said. "It gives Korea and the United States a competitive edge in the global economy if we can keep our supply chains resilient, reliable, and secure."
Yoon stressed that trade and technology between the United States and South Korea are of utmost importance, and in particular that "semiconductors are naturally security assets for our future."
"I look forward to today's visit resulting in a U.S.-Korea partnership blossoming into an economic and security alliance based on our partnership for advanced technologies and global supply chains," he said. said Yoon.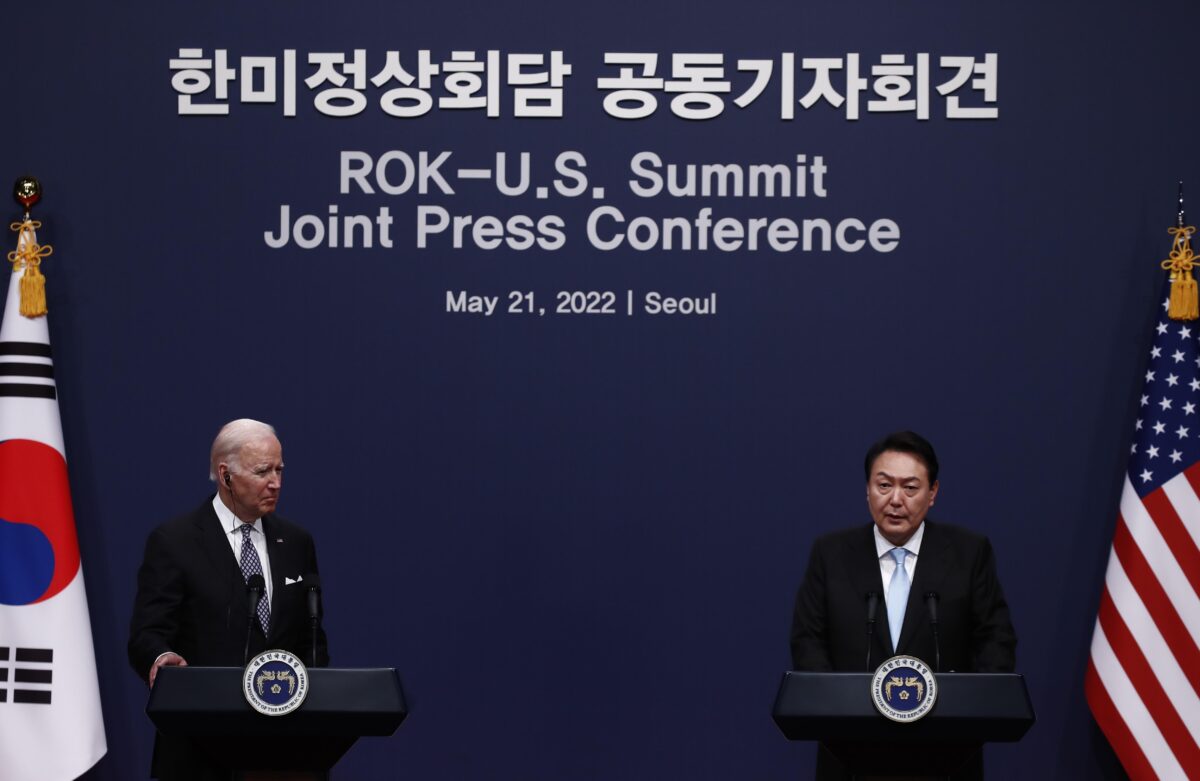 Korean lawmaker urges Korea to choose sides
Ahn Cheol-soo, a Korean lawmaker and presidential candidate in two previous elections, said on his Facebook page Aug. 4 that Pelosi's Asian tour means the time is near for Korea to decide whether to join the alliance. US-led Chip 4, and that "joining the Chip 4 alliance is an offer Korea cannot refuse."
The Chip 4 alliance aims to strengthen semiconductor cooperation between the United States, South Korea, Taiwan and Japan while excluding the CCP, and to build a secure supply chain for semiconductors. drivers.
Ahn said South Korea's biggest concern in joining the alliance is that it will inevitably encounter opposition from the CCP.
In 2021, the Chinese market accounted for 60% of South Korea's chip exports. "That's why it's harder for us to make a decision than in the United States, Japan and Taiwan," Ahn said.
The United States holds the most patents in semiconductors, especially in design, and Japan has the best technology in semiconductor materials, components and equipment, he said.
"Although we are number one in the world in the field of storage semiconductors, we must admit that this requires a symbiosis with the American and Japanese ecosystems," he said, noting that South Korea would suffer a huge loss if she refused to join the quadrilateral coalition.
On August 18, South Korean Foreign Minister Park Jin confirmed that the country would attend a preliminary meeting of the Chip 4 alliance.